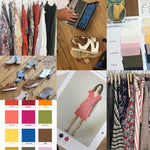 We are thrilled with all our new Spring Summer arrivals in store and on-line. Here's a few snapshots of our Buying trips in London from August last year.
It all started at 4.30am for the red eye down to London City, always a bit of a hazy blur of coffee and pastries! But as always we were straight into our first appointments with Ash & Kanna.
After a couple of hours we were just around the corner to Innocenza for the delectable Munthe and Ilse Jacobsen. The collections were incredible. We loved the Munthe Arizona dress, every piece is unique and hand printed, the showcase dress from the collection!
After lunch we hopped in a cab to West London to see Jeni showing Harris Wilson, Project AJ117 and new brand Sita Murt. Three very diverse collections, we really enjoyed pulling it all together. Such light and floaty fabrics from silk to linen, just beautiful! And before we knew it were enroute to Heathrow. Always the longest day but the best of days too!