ooh! ruby shoes
We opened our doors in February 2008 in the fashionable area of Bruntsfield, just a 10 minute walk  from Princes Street.

Sparkling with glossy lustre, sensual leathers and fantastic silhouettes; our collections are handpicked and sourced in Italy, Spain and Scandinavia.
Our emphasis is on style, quality and excellent customer service.
Find out more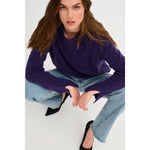 Bestsellers
Tis the season to stay cozy! Check out our fabulous knitwear collections in New Arrivals now….
stay cozy!
Whats Trending
Stay chic and keep it effortless this season. Shop our new dress collection here...
shop now!
"Another successful trip into Ruby Shoes, I just love their Scandinavian brands and the service is second to none. The girls really know their stuff! "

- Jane M, Edinburgh

"Great selection of shoes, I got just what I needed, thanks ladies, I'll be back again soon."

- Anne T, London